CIRCULATION Story
CIRCULATION 's Pro-Sharing is a new HR model which shares the experience and knowledge of highly specialized external professionals among companies to solve all kinds of business issues.
01
Pro-Sharing: helping solve business issues and social problems
With the accelerating evolution of technology and changes in social structure, many companies are forced to constantly change and deliver new value.
Pro-Sharing allows us to utilize people's experience and knowledge for projects with fixed timeframes, enabling us to innovate and solve a diverse range of issues, from corporate undertakings such as developing new businesses to social challenges like creating a society capable of sustainable growth.
Changes in number of active projects (cumulative) and number of client companies (cumulative)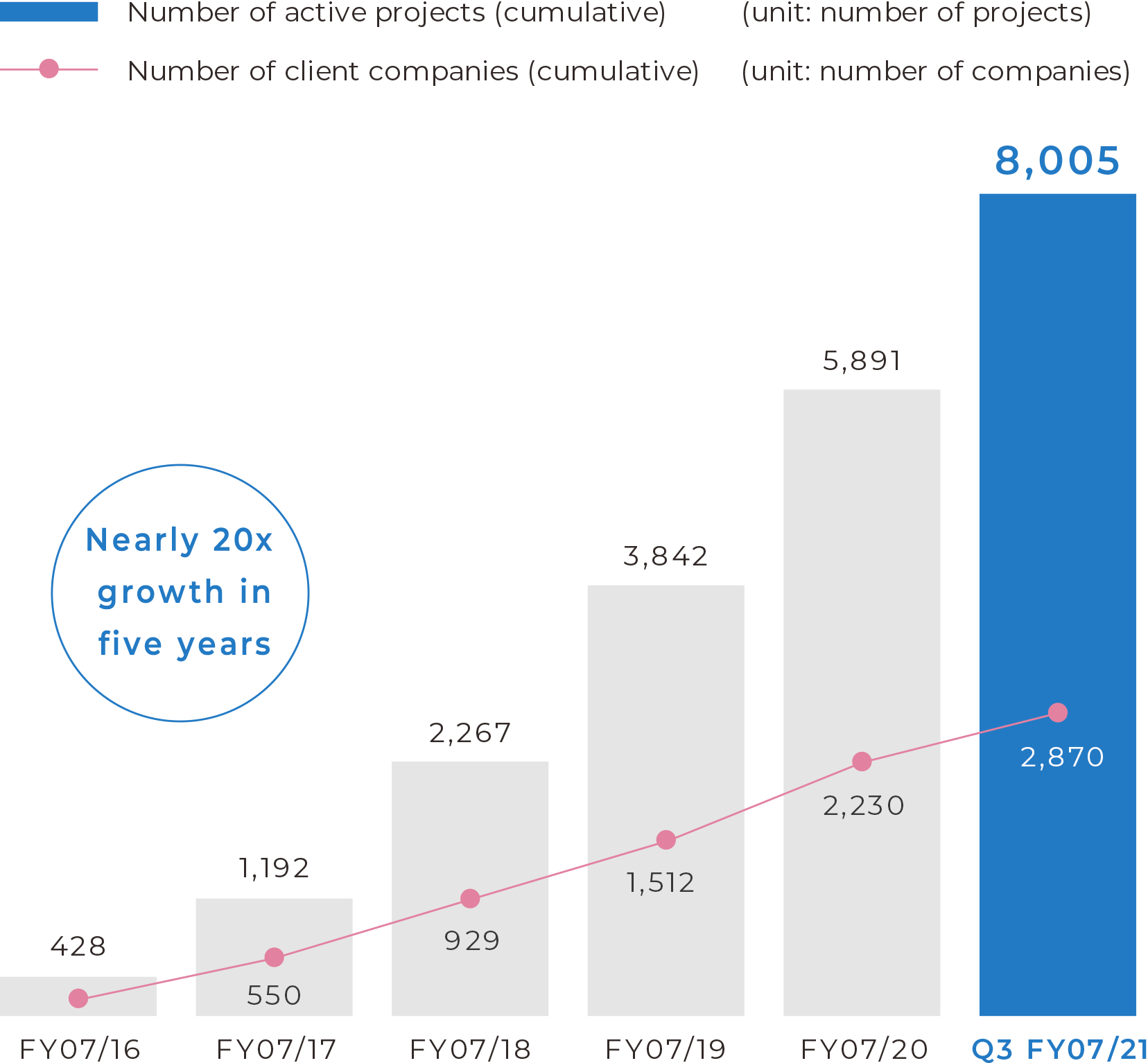 02
High growth potential of the Pro-Sharing market
With the increasing sophistication of specialized knowledge and the mobility of the work force, a new system is already being implemented in the U.S. and other areas around the world from the business consulting to the knowledge and skill sharing fields.
The need for Pro-Sharing services is expected to increase in Japan as well.
Freelance population
Business areas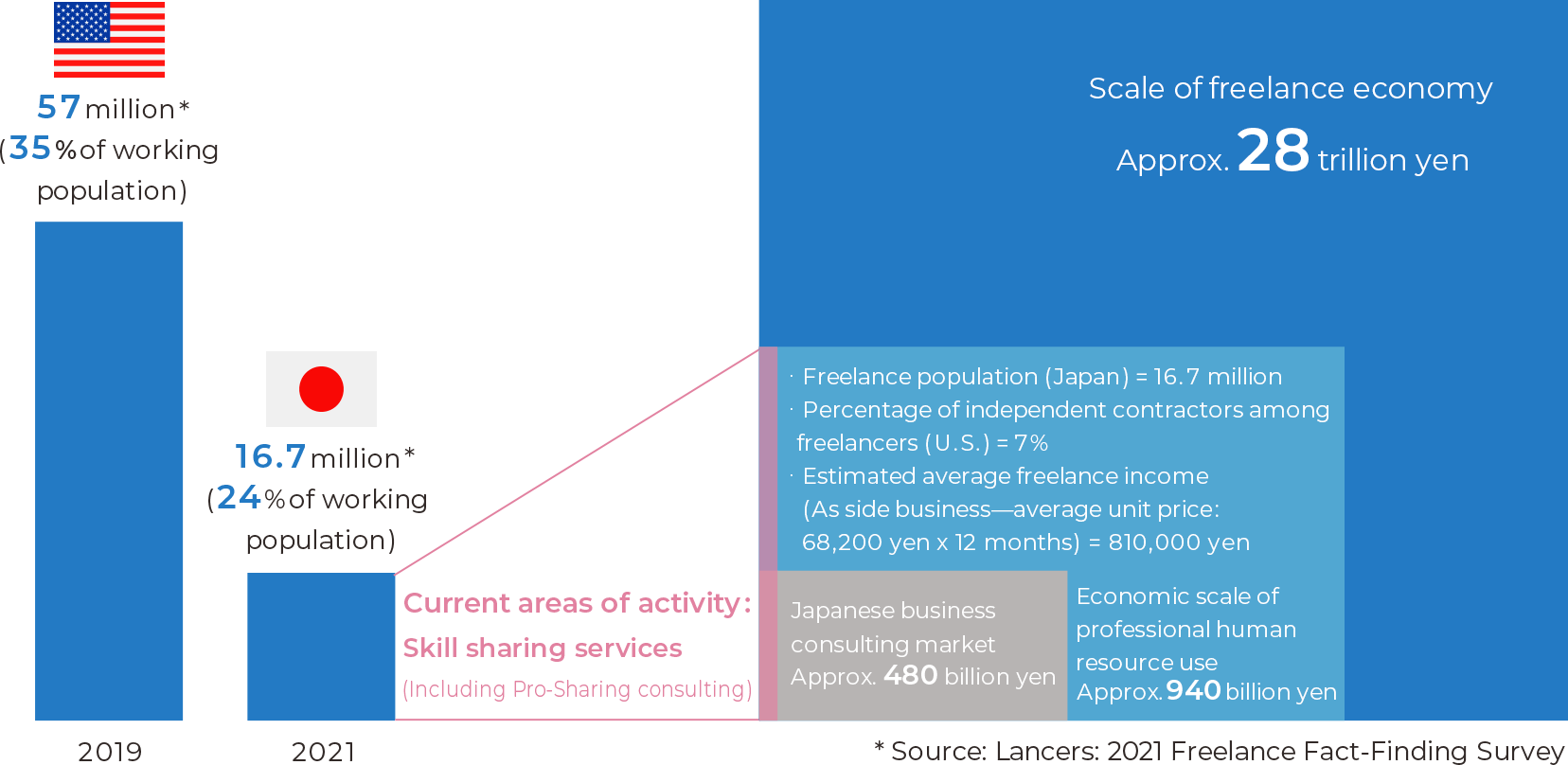 03
Platform with extensive assessment database to help solve problems and provide customer satisfaction
Japan's largest independent professional talent resource and collection of data on issues affecting corporations and municipalities.We more accurately match professional human resources with projects to better solve problems and achieve customer success.The high level of customer trust we have earned helps with upselling and cross-selling.
17,000(17,116 as of the end of April 2021) : The most registered professionals in Japan
Platform enhanced with a wide range of amassed data
Influence on business model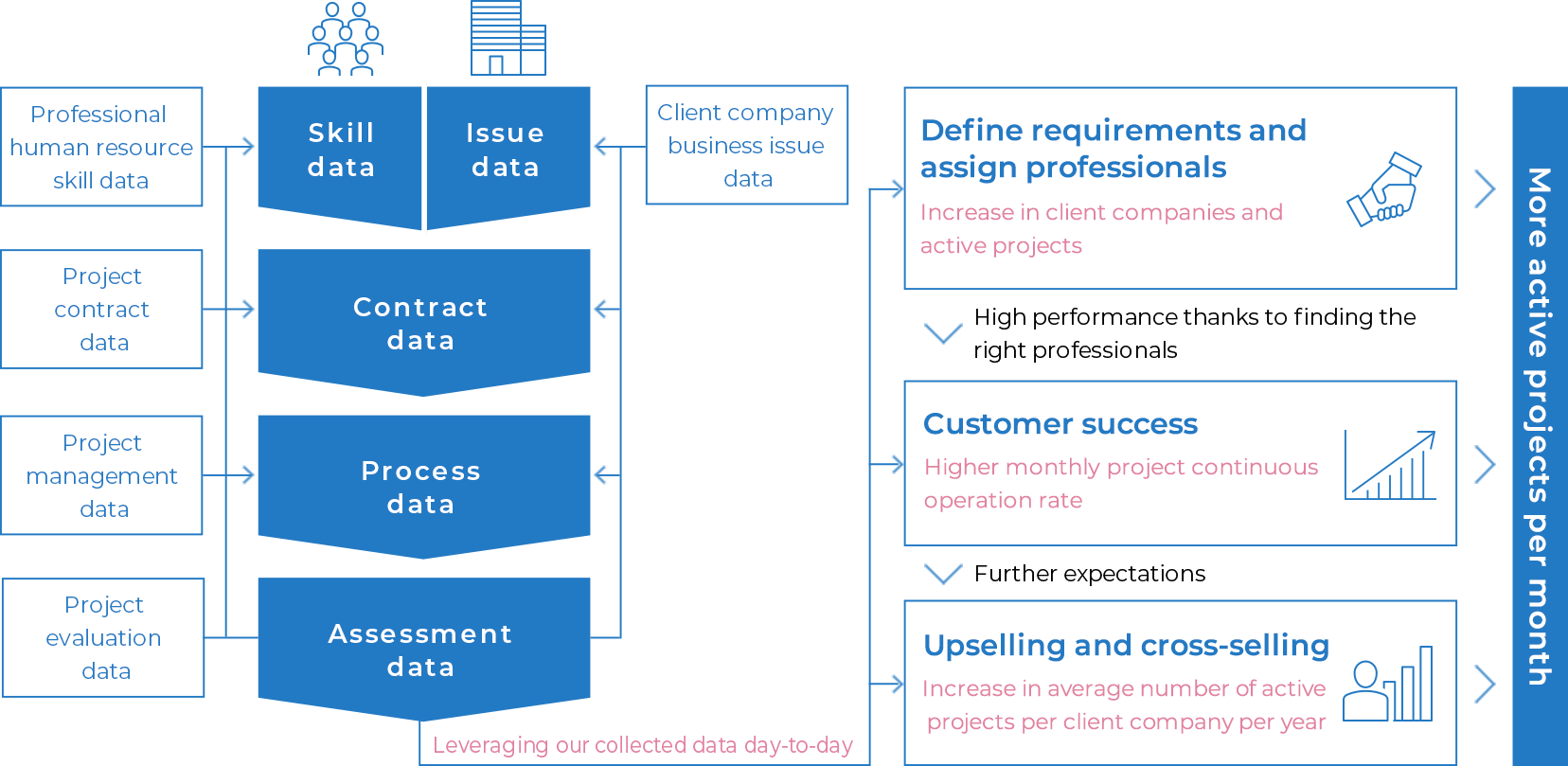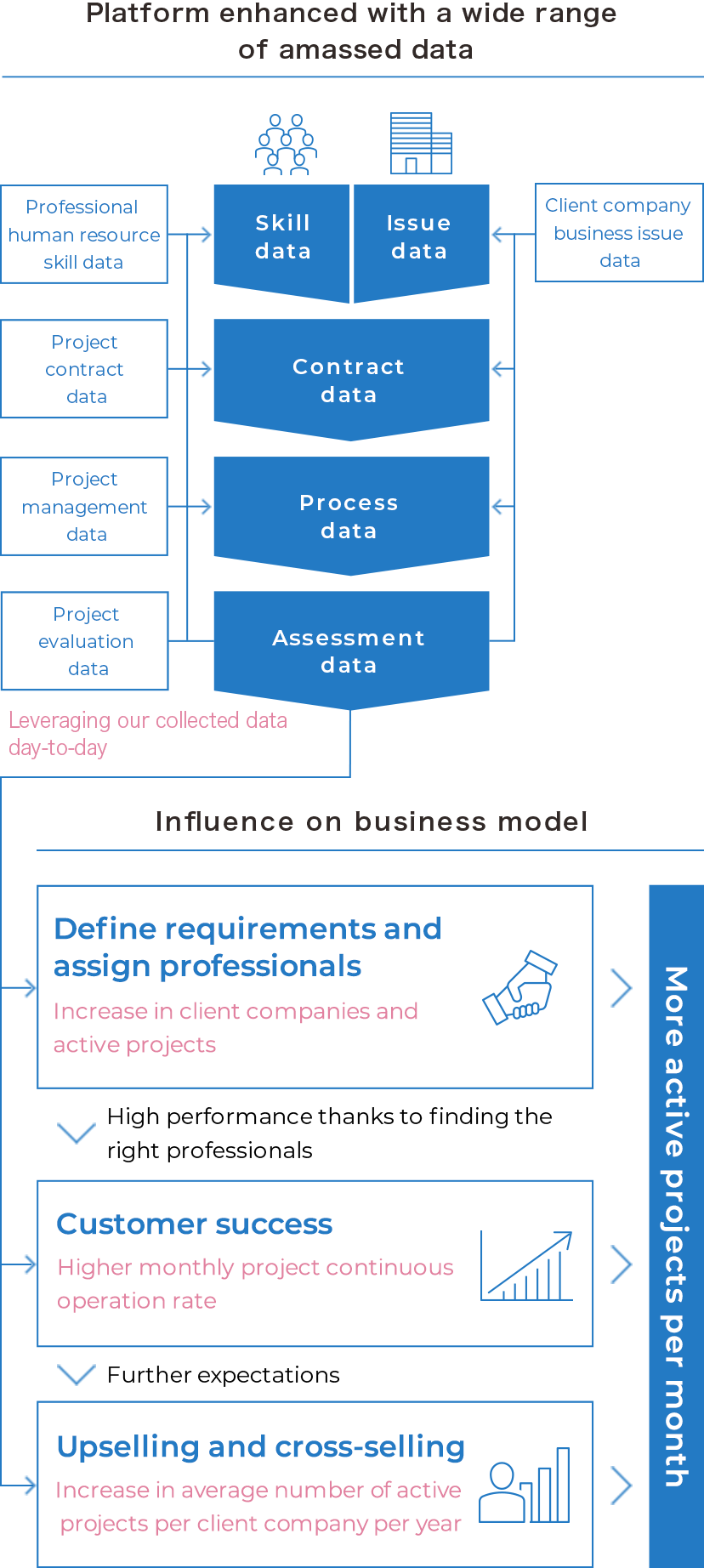 04
A recurring business model enabling the sustainable growth of investments
Business is a series of problems to be solved.New challenges are constantly emerging and need to be addressed.We have a stock of projects from existing clients, and timely and cost-effective use of Pro-Sharing is always needed.
To solve ever-changing business challenges, we have built a business model able to secure investment funding for creating new services and value.
Changes in number of new active projects (cumulative) and number of existing and ongoing projects (cumulative)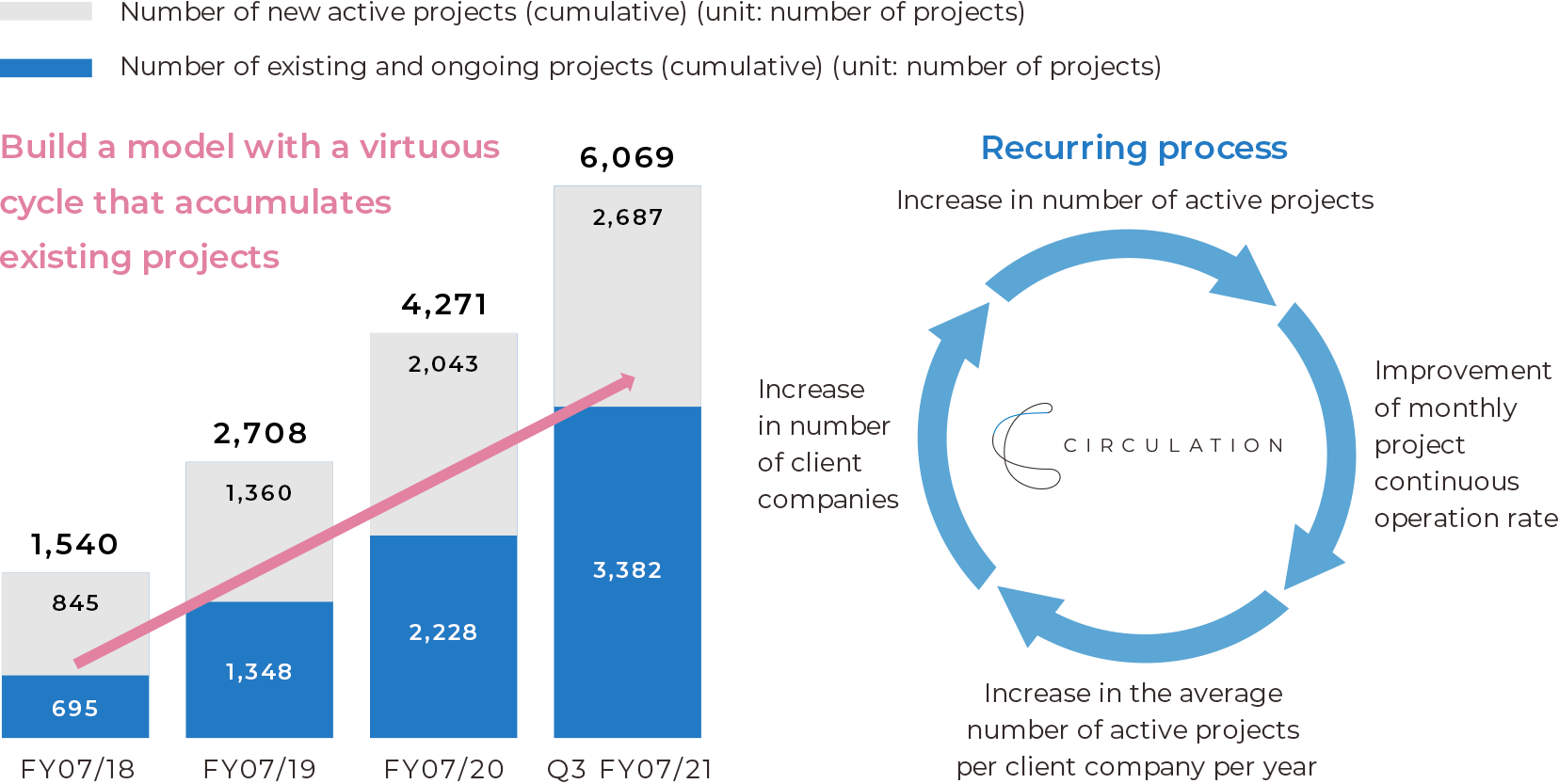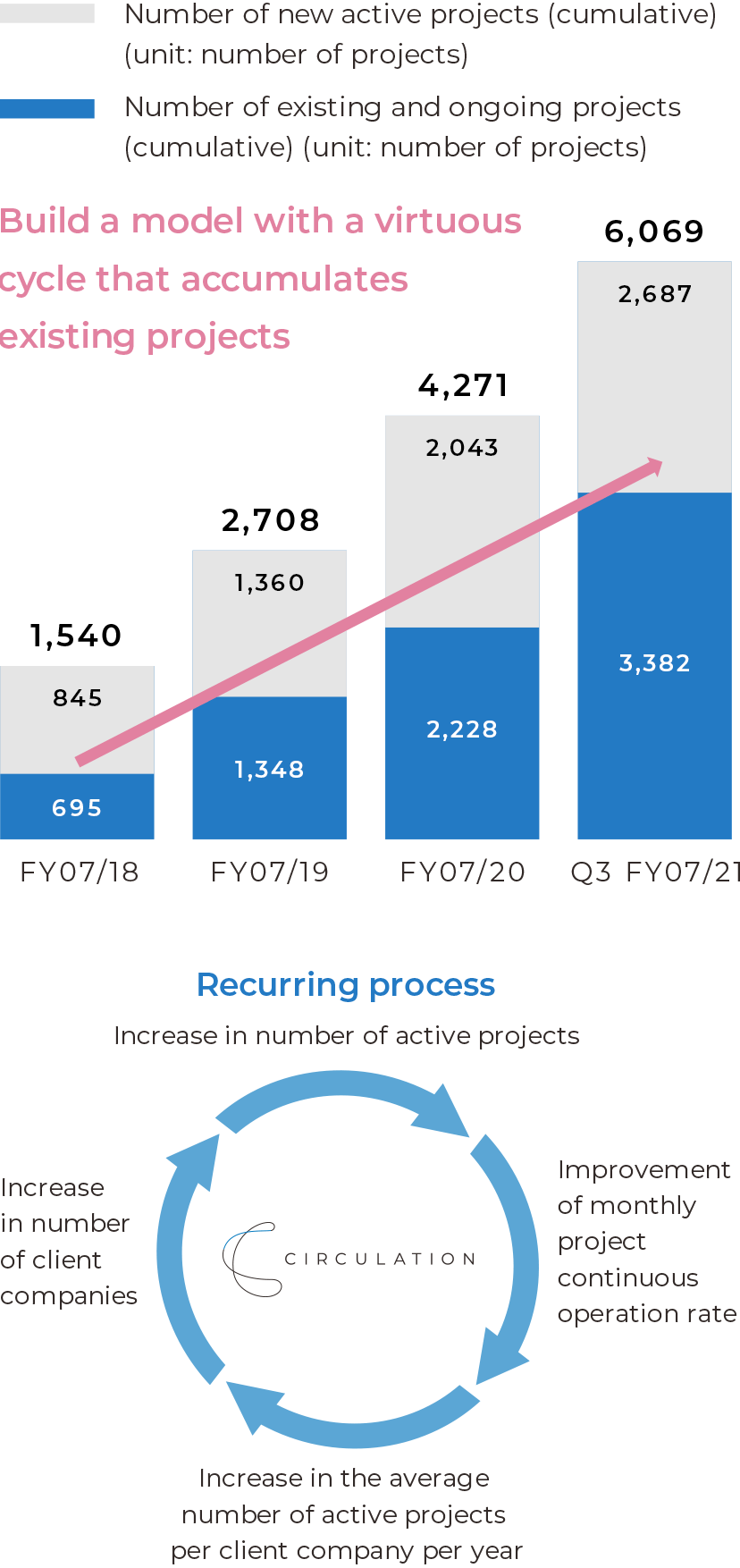 05
Contributing through people and technology to economic development and the creation of a sustainable society by improving the CIRCULATION of knowledge
Japanese society faces many challenges. Some of these include its rapid aging, a shortage of human resources, and declining labor productivity.CIRCULATION aims to help solve these problems and achieve high growth by creating various services that circulate knowledge through society.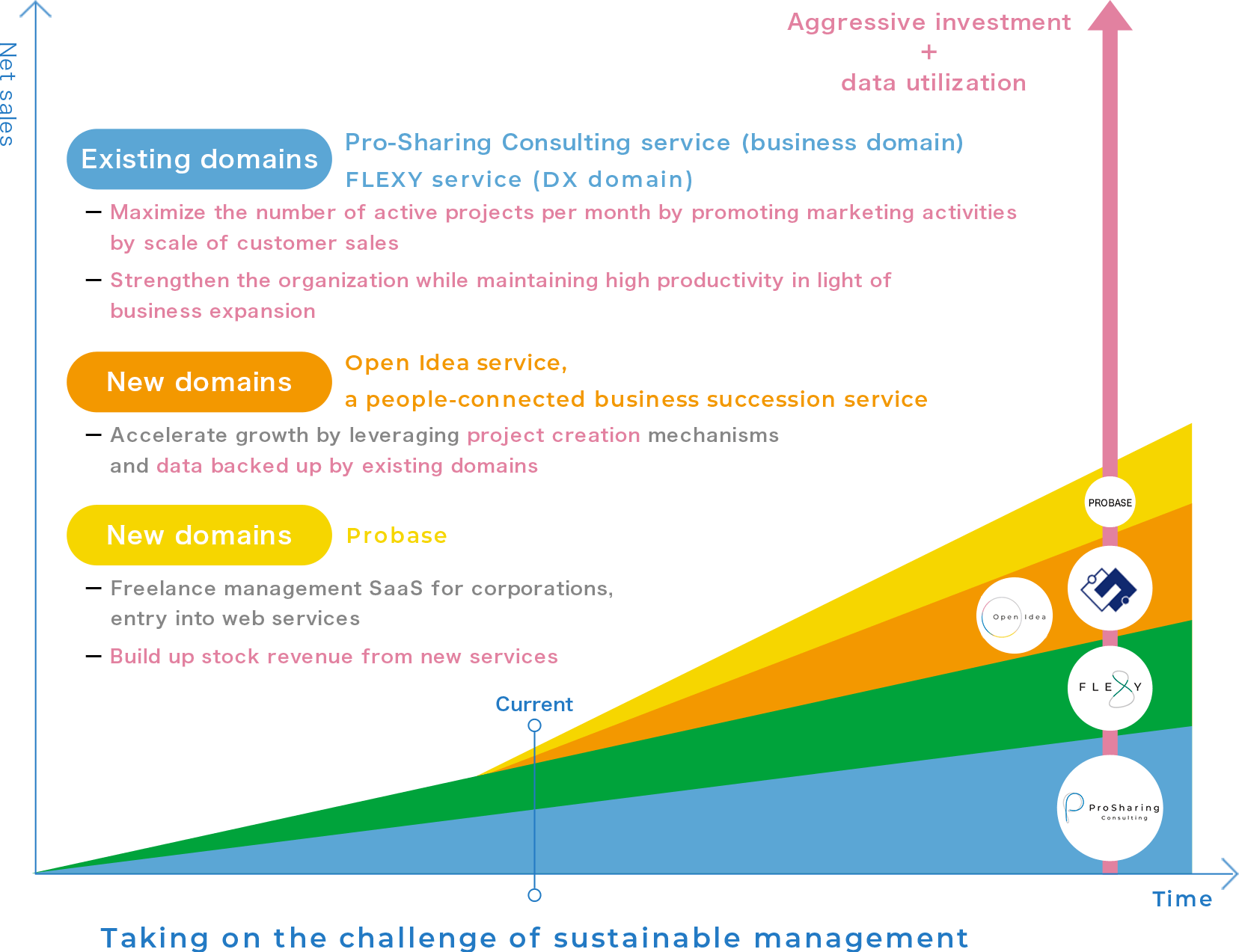 Services at a glance
RELATED PAGES
Financial Highlights (in Graphs)